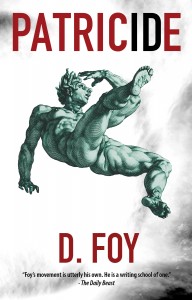 We're extremely pleased to announce our first title of 2016 will be D. Foy's PATRICIDE, publishing on October 15th. This is the first in a three book deal that will see further new work from Foy publishing in 2017 and 2018.
D. Foy's second novel is a tornado of brutal Americana. PATRICIDE is a heavy metal Huck Finn that whips up the haunted melancholy of Kerouac's Doctor Sax, a novel of introspection and youth in its corruption that seethes with the deadly obsession of Moby-Dick, and the darkness of Joy Williams' State of Grace. Beyond the story of a boy growing up in a family derailed by a hapless father, PATRICIDE is a search for meaning and identity within the strange secrecy of the family. Outside the paternal reach of Reagan, Freud, and a thousand others, Foy plots a history of boys in the shadow of The Father's broken wing. This is an existential novel of wild power, of memories, and mourning-in-life, softened, always, by the tenderness at its core. With it, Foy's place among the outstanding voices in American literature is guaranteed.
We've been working quietly on this novel through the winter and we know that it will blow you away with its argument between philosophies and psychopathies. The prose shifts easily between voices, between argot and classicism, between innocence and experience.
Previously, D. Foy is the author of the novel, Made to Break. His work has appeared in Guernica, Salon, Post Road, Electric Literature, BOMB, The Literary Review, Frequencies, Midnight Breakfast, The Collagist, and The Georgia Review, among others, and has been included in the books Laundromat and Forty Stories: New Writing from Harper Perennial. You can visit his website at www.dfoyble.com